Wishing you love and laughter for your holidays with m magic and wonder!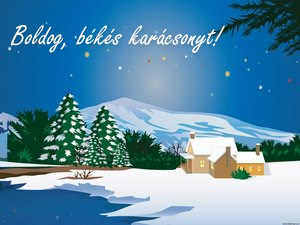 Olvad az elso hó, csupa sár minden,
A szánkó is még a padláson pihen,
De a téren reggeltol fenyofa áll
És minden ága csillogó díszre vár.
Az ablakban este gyertyák égnek,
S az emberek szemében titkos fények.
Szájukon mosoly, kezükben csomagok,
Emlékeik közt régi karácsonyok.
A faluban száncsengo hangja szálldos
És megszaporodtak a mikulások,
A gyerekek is most egy kicsit jobbak
És aranyos-furcsa levelet írnak.
Karácsony jön és bekopog csendesen,
Varázsától megváltozunk hirtelen
S olvadhat elso hó, minden csupa sár,
A szeretet most már a szívekben jár.
Békés, Boldog, Áldott Ünnepet Kívánok Minden Kedves Olvasómnak!